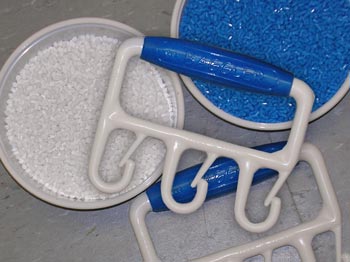 Plastic granules shown with finished molded product.
FAQs About Injection Molding
Frequently asked questions and definitions for terms used in our industry.
What is injection molding?
Injection molding is an extremely versatile and popular form of molding. Other processes include extrusion, thermoforming, and blow molding.
In injection molding, plastic granules are heated and injected under pressure into metal molds, where the molten plastic hardens into the designated shape.The mold then opens and the newly formed part is removed and inspected. The part is then ready for shipment or for secondary manufacturing operations.
What types of materials can be custom molded by G&G Products?
Polystyrene
ABS
TPR
TPU
TPE
PVC
Nylon
Acetal
Polypropylene
Polyethylene
Polycarbonates
I have a concept for a molded product. How do I get started?
First we will meet with you to go over your project in detail, reviewing your product concepts and quantity needs in order to select the right materials. We then provide you with a price quote for the mold and for the injection molded parts.
After your order is placed, we will create a CAD drawing and print it out for a visual approval, then follow up with a mold and sample parts. In most cases, we plan out a prototype mold to get started in order to have an actual part in your hands for final approval.
Why is it important to develop a product prototype?
A prototype is a quick way to find out if you are on the right track with your plan design and is often the best way to gather feedback from users while you are still refining your design. It is also considerably less expensive to change a product early in the development process. In addition, having a prototype of your product can help to build creditibility with potential investors.
What is a CNC mold?
The abbreviation CNC stands for computer numerical control. It is a machine that is operated by a computer. At G&G Products, we use CNC machinery in our machining center to cut injection molds. CNC machinery is extremely fast and accurate, allowing for a more consistent and higher-quality finished product.